This story is way overdue, and I'm noticing more and more at shows, people are asking how long we've been playing, how we met, and our story thus far.  Since my role in this act has been all inclusive, from manager, to booking agent, to website developer, to musician, I figure it's good to lay it out for those interested. After awhile you get to wonder how musicians work.

The original duo was James "Jim" Gaudette and myself, Mike.  I say original because by now, it's changed.

The simple answer when the "how long you been around" question comes up is, 2007. May 2007 to be specific. That's the first time Jim and I jammed at my place, and got the awkwardness out of the way right off the bat.
Any musician who jams with someone new for the first time knows what I mean, and how important it is to quickly lose that weird feeling of playing/auditioning.
So we talked guitar talk, discussed our respective careers, which coincidentally was teaching the instrument at different ends of the Merrimack Valley (Massachusetts and New Hampshire), and had an all-important social drink together. Not alcohol, but kava kava.

So, we took off in 2007, decided we had a good chemistry musically and friend-wise, noted that we laughed a LOT at the same stuff, and said, hey, let's make this an act. Instrumental guitar. Talking casual to the audience about what we both love to do. Having fun. We found a support with what we were doing and started performing in the area…
But I digress.
Flash back to 1999 for a minute.
I had a day job as a bank teller in '99, and walked into Guitar Center in Danvers, MA one day with a nice chunk of tax return cash in my pocket. Browsing around, I noticed on a "used" stand, a 1962 Fender Jaguar Reissue guitar, color white:
I had always wanted a Jaguar after I had learned a bit about them. You could dial in many sounds with all the switches and so on. Never even played one. But, I saw this guitar, the price was right ($400), and I had the dough. He who hesitates is lost, right? Especially with guitar purchases. It's a psychological issue…
So I knew I needed to buy this guitar. Just as I thought that, some teenager picked it up off the stand and started bashing away some bad version of a Kurt Cobain riff. Great, I thought. There goes the guitar. Not to be defeated, I went up to the sales guy behind the counter to help me on my mission to make this instrument mine. I noticed his name was Jim:
Trying to be as cool as possible while restraining the growing panic that the Jaguar would be damaged or bought by the teenager, I said to Salesman Jim, "Hey man, see that white Jaguar the kid is playing?? I'm ready to BUY THAT now."
Salesman Jim looked at the kid, looked back at me, and said with a wistful gaze, "Aw geez, you know I've had my eye on that Jag for a long time, I actually was saving up for it! I play a lot of surf and twangy music."
But, the customer was right in that instance, and Jim was such a good salesman that he managed a tactful, firm way to extract the guitar from the teenager, bring it over, and ring it up for me. All while swallowing his disappointment at its departure. He even threw in a soft case for it at no charge. What a guy!
I thought not much more of the experience, except it was a great thing to have that guitar. In parting with Salesman Jim, I gave him one of my early music business cards, which for some reason I had put a graphic of a moose on in those years. Jim said bye, I left the store with my guitar and we parted, into the new millennium…
Fast forward to 2006 or so.
As I was building my music and guitar career, my dad, who is an old rock 'n roll piano player, was gigging with his established group (Boston Rockabilly) around the Greater Boston area.
He mentioned to me one day on the phone:
"Y'know, we had a kid sit in with us on guitar last night, he's about your age, he's very good at playing that old stuff. He's sat in with us before, and I told him my son also teaches guitar, plays professionally, and would be good for you two guys to get together. I gave him your business card, I think it had a moose on it."
I said thanks dad, didn't really connect anything with it in my mind at the time.
Early in 2007 I get a call from this guy who says he sits in with my dad's band every now and then, and was reaching out to talk about guitar and stuff.
Jim says, "Hey, your dad gave me your business card, it had this moose on it and I was saying to myself…is this the same guy who bought that white Jaguar from me at Guitar Center in 1999?? I hung onto the card you gave me back then!"
So that brings us (almost) to the updated story. What Jim and I now call the "First Phase" ran from 2007-2012. As life changes, so do people's schedules and availability, and Jim and I had more than enough to attend to in 2012. Musicians need to be flexible. Jim had decided that a five year run was good; we had built up an awareness of this duo, showed our versatility, and established the name in the New England region. Our playing was getting better and it showed no end in sight. I was sad at the time for sure, and we had no grudges. But, the show must go on…especially when one finds a project doesn't satisfy.

Cut to December 2014. I get a phone call out of the blue from Jim, while recovering from a really nasty virus. I literally had not heard from, emailed or talked to him for an almost solid 3 years. Things had changed; life was in a different position now, would I be interested in getting the DoubleNecks back together again, a stronger, more fun version?
"Jim, let me know when you can come over. I'll have the kava all set up."
Thanks for reading!
~Mike
 ___________________
2016 UPDATE. JIM DEPARTS. MAY.  END OF THE SECOND PHASE. START OF THIRD PHASE, MIKE CONTINUES WITH NEW PLAYER.

I sincerely thank those kind and wonderful people who came to see us during 2015 and early 2016 residencies at venues such as Riverwalk Cafe in Nashua, NH, from the bottom of my heart.

 Jim left the DoubleNecks in April 2016 for personal and health reasons.  We reached an impasse. It had to do with all the boring stuff musicians must deal with to continue professionally. Business, planning, scheduling. Certainly not the music, I'm very proud of the music I made with Jim.  But, I was charged to push the DoubleNecks forward, to make it grow, and he was quite content with the opposite. I accepted the circumstance after some time.
  Starting in April 2016, sharing the stage with the talents of guitarist/singer/artist Tim Kierstead for DoubleNecks Guitar Duo℠ engagements has been fantastic, and I'm grateful he was around at a difficult music juncture to step in and literally lend two hands.  Tim is a superb player and writer, as well as a dedicated wood craftsman.  We currently perform around the Merrimack Valley region.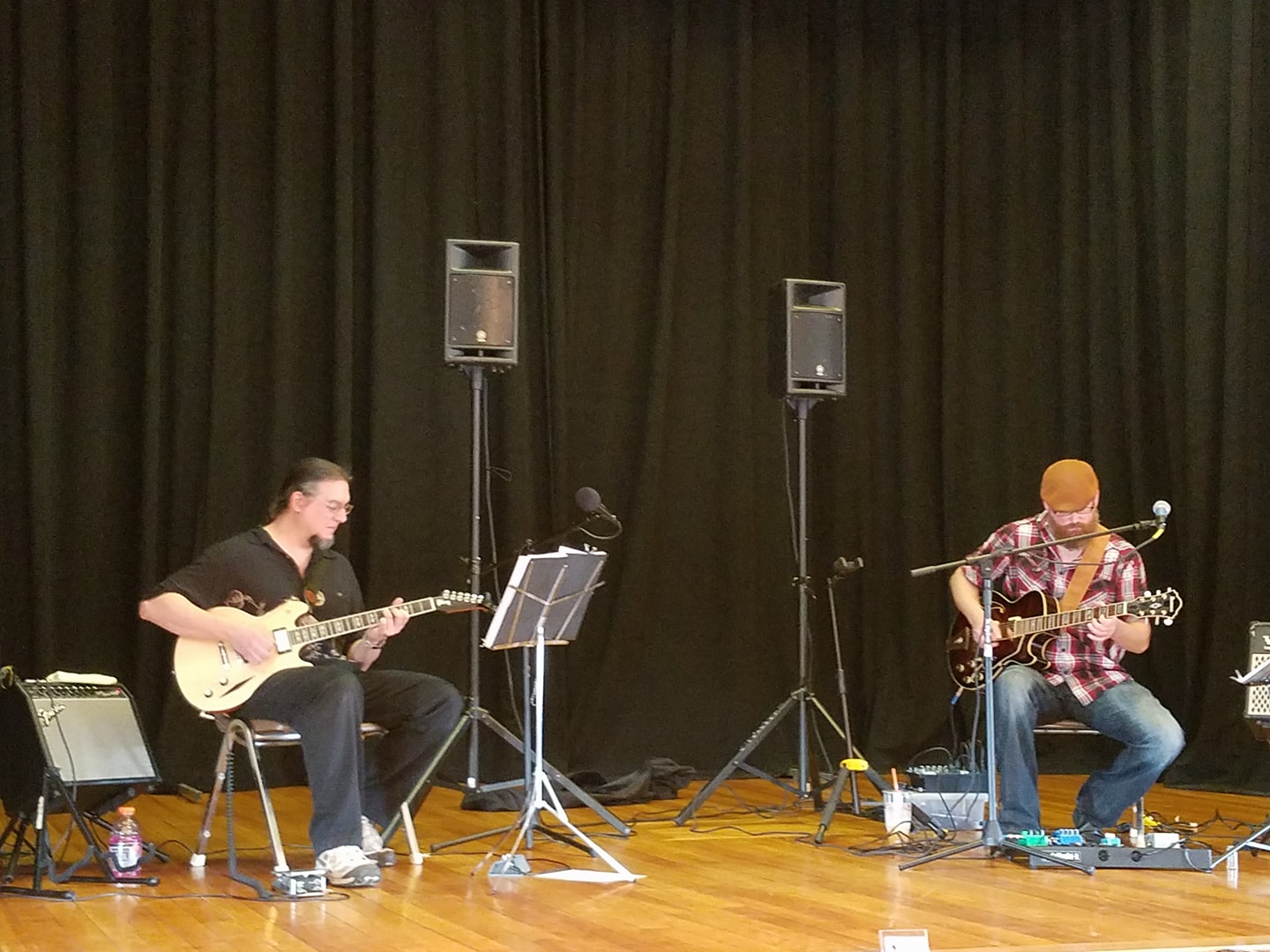 More to come!
~Mike